Avonflow Brand Ambassador
AVONFLOW electric towel rack officially signed with Hu Ke as the brand spokesperson to promote a new chapter in brand strategy
On August 5, 2020, Jiangxi AVONFLOW HVAC Technology Co., Ltd. formally signed a contract with the famous movie star Hu Ke to become the brand image spokesperson for AVONFLOW electric towel rack. As a brand that pioneered the star mechanism in the electric towel rail industry, AVONFLOW will make a major strike in 2020 and join hands with the popular movie star Hu Ke to officially open a new era of AVONFLOW brand strategy upgrade, and start the "fast-forward button" of AVONFLOW brand communication--A journey of second-order brand transformation.
As the leader of "intelligent manufacturing" in the global HVAC industry, AVONFLOW has more than 5 million users worldwide and exports 1 million pieces to Europe and the United States per year. Hu Ke,to whom joined as a brand spokesperson and injects a strong force into AVONFLOW this time, is not only demonstrating AVONFLOW's strong brand strength, but also an important part of AVONFLOW's new brand strategy.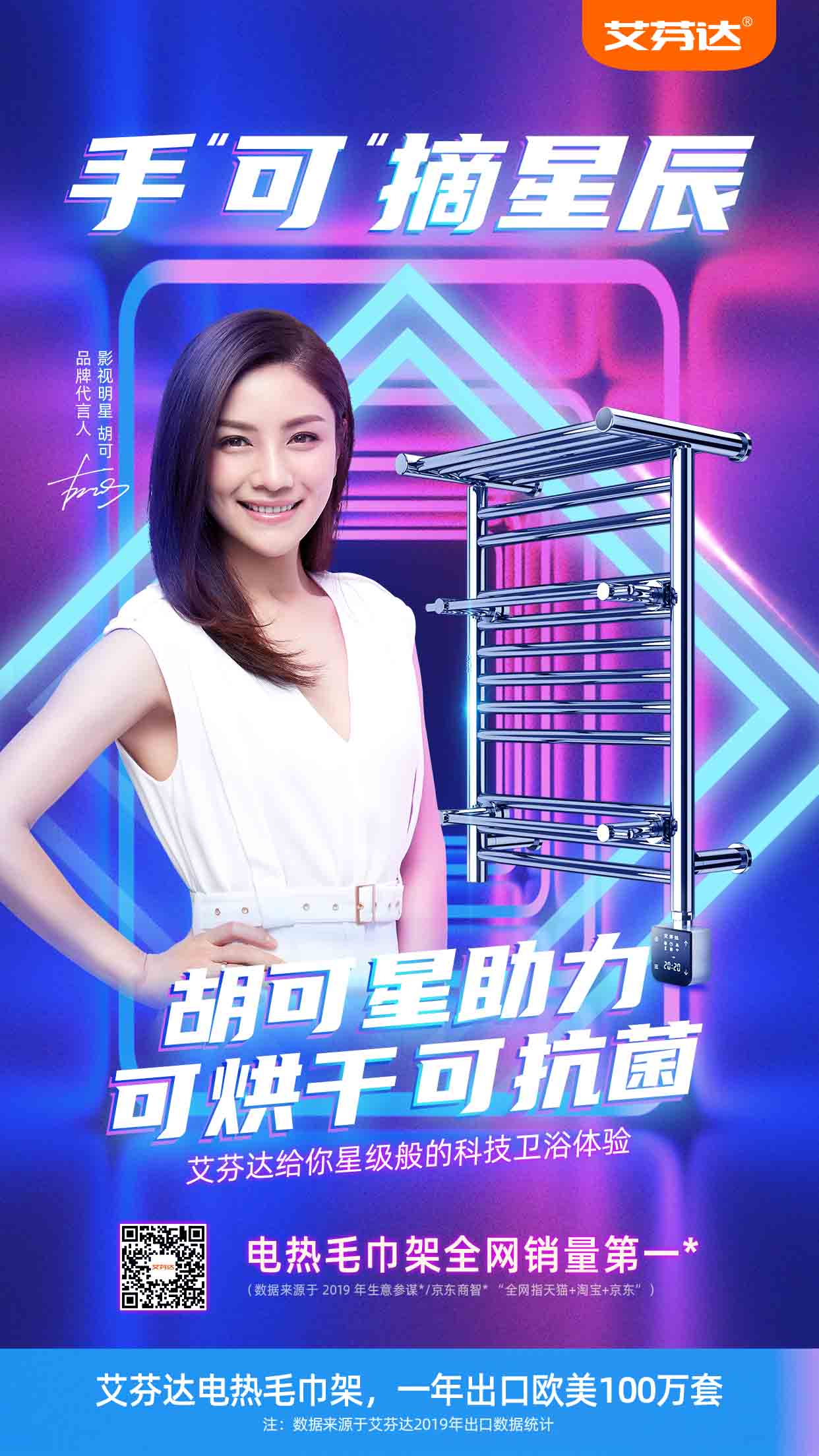 As a well-known movie star in China, her screen image has long been deeply rooted in the hearts of the people, and he is widely recognized as a powerful faction. On the road of acting, Hu Ke has been making continuous attempts and continuous breakthroughs, with an attitude of excellence and treating every role and performing well.
Undoubtedly, AVONFLOW signed Hu Ke as the brand spokesperson, which plays an important role in embodying brand personality, creating brand identity, and increasing brand equity. Hu Ke, who is already the mother of two lovely children, is very concerned about the healthy growth of the children. This is in line with the brand concept of "Improve people's bathroom life and set sail for the health of every family" advocated by AVONFLOW electric towel rail. When the AVONFLOW electric towel rack meets the powerful idol Hu Ke, the two powers collide, which is bound to bring an extraordinary experience to users.
In the era of fan economy, idol spokespersons with outstanding personal charm and numerous fans are of great significance to the development of the brand, and the continuous development of the brand will also promote the spread of the image of the spokesperson. Idols cannot do without the support of fans, and brands cannot do without the trust of users. For AVONFLOW, signing a spokesperson is an upgrade of the brand image, and it is also the general trend of the brand's development. In recent years, AVONFLOW has continued to innovate,explore, and strive to build a new brand image. The new upgrade of the VI/SI system and the successful landing of the country's first towel rail experience store fully demonstrate AVONFLOW's determination to flourish.
It is believed that the "spark collision" between AVONFLOW and Hu Ke will play the strongest voice in China's heated towel rail market, which will open up the golden age of AVONFLOW.